in the way projects are undertaken,
managed and completed. Building our business model on integrity, delivering more than promised. With competitive pricing, we continue to set a standard of professionalism in an industry where it has been lacking.
Do Not Be Fooled By:
Out of state companies that claim to be from Colorado.
Companies that promise to pay your deductible.

"It is unlawful to pay, waive, rebate or promise to pay, waive or rebate, all or part of any deductible applicable to the claim for roofing work on a covered residential property."
The above is Colorado Law

Sales people who are inexperienced and want you to file a claim when there is little or no damage.

It can hurt you with your insurance company.
We...
are Fully Insured

Workman's compensation and general liability.

will provide References upon request
will Work with all insurance companies

No hassle for you? We do the work!

have a 5 Year warranty on all work
have Shingles with lifetime warranty available
offer Free roof inspections

We only call in claims that have significant roof damage to your property.
by Who We Are
Thiessen Construction and Roofing is a family owned and operated Company.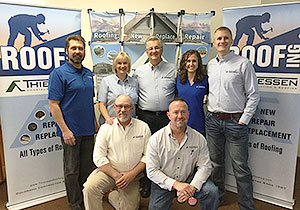 Glen Thiessen has been a licensed Contractor at the same location since 1987!
Our team consists of:
Glen, Sandra & Logan Thiessen
Scott Nauman
Steve Becker
Rob Huffsmith
Their combined experience represents more than 70 years in construction, remodeling and roofing! Our installation crew is the best in Colorado with licensing and code compliance in all Front Range jurisdictions.
We understand that choosing the right Company for your roofing and remodeling needs can be intimidating, and we welcome the opportunity to give you a free and fair estimate of what your project will entail! While many companies invest much more in sales and marketing, the Team knows that the very best way to build business is with satisfied customers who recommend us to their friends and loved ones! We under promise and over deliver!
We specialize in products manufactured by Owens-Corning, GAF, and CertainTeed. Thiessen Construction and Roofing works with all Insurance Companies in order to achieve the best quality possible for your project.
by Our Honesty & Integrity
Thiessen Construction and Roofing will collect all applicable deductibles from the insured as part of any job paid from insurance proceeds!
Thiessen Construction and Roofing, Inc. is committed to excellence in everything we do.
Colorado Senate Bill 12-038 states in part,
"Waiver of Insurance deductibles prohibited. (1) A Roofing Contractor that performs roofing work, the payment for which will be made from the proceeds of a property and casualty insurance policy issued pursuant to part 1 of Article 4 of Title 10, C.R.S., shall not advertise or promise to pay, waive, or rebate all or part of any insurance deductible applicable to the claim for payment for roofing work on the covered residential property".
Simply stated, we will comply with the law in every case.